Welcome to Mahalo Farm located near Charlottesville, VA!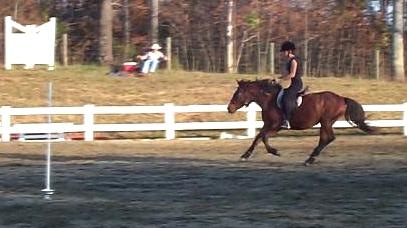 Mahalo Farm is a 97 acre farm located in Earlysville, VA, 11 miles from the center of Charlottesville, VA, dedicated to the love of horses and the land. The farm is owned and operated by Patty Swygert who purchased the farm in 2000. After clearing miles of barb wire and brush and putting in riding rings, fencing, a cross country and TREC course, and water lines to create a supportive, beautiful and happy environment for her horses, she began to offer foundation horseback riding lessons to children and adults and pasture boarding for a small number of horses.

Priorities for the farm are having fun, being safe and living green. The farm could be described as "beyond organic" with its fresh water (10+ streams and springs,) natural pastures and organic hays. Holistic horse care is provided whenever possible. All horses are barefoot, most can be ridden in halters and most can easily trot down our gravel roads.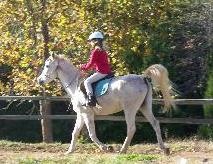 Mahalo Farm has a medium-sized riding ring with an all-weather track, lights, jumps and barrels, an all-weather surface round pen with lights, a full-size grass dressage arena, multiple run-in sheds, tack shed, huge barn (with 2-3 stalls in case of need or lay-ups, hay storage and covered areas,) lovely bottom land pastures, woods, farm trails and cross country jumps, a regulation water jump and TREC obstacles. The farm is in a lovely rural area in Farmington Hunt country. Trail riding for an hour, 1/2 day or all day is available without crossing any paved roads.

If you are not familiar with Mahalo Farm, and your first contact with us is online; we would be pleased to hear from you! Let us know what your needs and questions are; we will be more than happy to help.

Bode, Marrakesh and Sundance returning from a bareback ride through the pastures on a warm, summer day!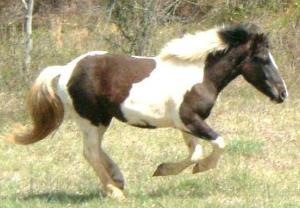 Diamond running free in lower pastures!
Diamond is a Haflinger/Percheron/pinto cross that I bought sight-unseen as a 1 1/2 year old off the internet. Diamond is the only horse I've ever sold, and he now resides in Free Union. We miss him, but know he's happy with his new owner.

Photo by Heide Wessels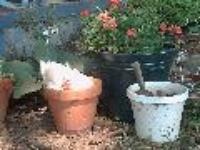 Frank, the chicken, helping plant flowers, or giving new meaning to the expression, 'a chicken in every pot!' Frank finally passed on after 6 years of antics. We still miss her.